From foster care to adopting five children
Sunshine Peterman, who didn't have a mother at home while she was growing up, never thought she would have children of her own.
Now, at 38 she has 10 children - five by birth and five by adoption. Her children range in age from 8 to 18 years old.
The driving force in her choice to adopt so many is her past, knowing what it was like to not have a mother.
"It's a lot of fun, especially now, " she said about the responsibilities of having a large family.
Over the years, Peterman has been able forgive her mother for what her parents done during her childhood. Peterman has strong memories of the pain caused from not having a mother. She remembers in class one time where their assignment was to make a plastic coffee mug for Mother's Day.
It wasn't until her adult years with her own family that she realized how important it is having role models around. Peterman began to learn patience, and persistence when raising her children. She noticed the difference of having a mom can make in a child's life.
Peterman noted how wonderful, and just how amazing it is to be a part of her children's lives by giving them love and support.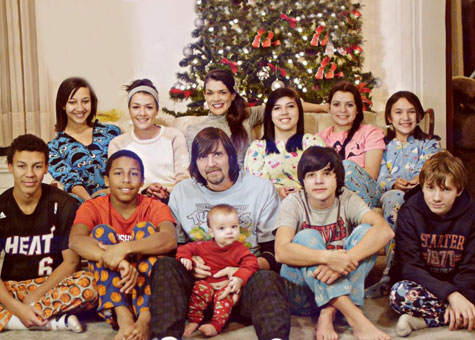 Peterman never considered adoption until she saw an email circulating among church members. She knew that she didn't want to foster. She wanted to adopt.
A sibiling group of a boy and girl were placed with her, and then a year later a sibling group of two brothers and a sister arrived.
"I am very happy with the life I have chosen," Peterson said.
Follow her on twitter
@momsterof10
.
Read the full story
here
.